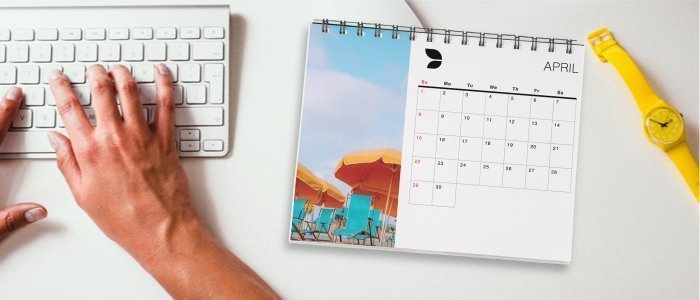 Why are Calendars important to you and your business?
Calendars
have been used for so long. However, the use of calendars has become slightly less popular since we tend to increasingly rely on modern technology to help us organize our days (calendars on our phones and computers). When it comes to marketing though, it is obvious that printed materials still have a long-lasting impact on brand recognition. Indeed, they help people to recognize a brand even better, which is why so many entrepreneurs still see strong potential in this printed marketing material. Branded calendars, thanks to their usefulness for whoever receives them, tend to have great branding impacts.
Below, we break down the main reasons why calendars are so useful for the average person, and for brands. Believe us, printing calendars is definitely worth it. If you're already convinced on the business advantages of
calendar printing
, head down to the bottom of the article to download our free calendar templates for 2018.
2 Main Reasons Why Your Business Needs Calendars:
1. They Help People Remember Your Brand
Many companies use calendars to increase their own customer's loyalty. Instead of only targeting new customers, why not take some time to take care of your loyal customers with a yearly gift such as a company calendar? No one will ignore a good quality calendar with a creative design: they are useful and look great! The calendar will remind them of your brand for sure. Think about your customers, send the calendars to their families or friends. This is how you will raise your brand awareness. A yearly
postcard
or greeting card sent to your partners and customers has the same positive effects.
2. They Increase Long-Term Revenue for Your Company
Calendars increase revenue in 2 ways. First, they raise the loyalty of existing customers and make your customers come back. Second, they are also useful in marketing your brand to new customers. Think about it: anyone who is attracted to your calendar that they see on someone else's table, can be attracted to your brand. If the design and content of your calendar is smartly conceived and links to your brand are obvious, you will for sure acquire new customers and revenue this way. Glazing on the cake is that calendars just sit there the entire year! Basically, as a company it means you get free advertising for an entire year. What's not to like?
There are 3 Main Reasons Why People Need Calendars:
1. Managing your daily activities
We all have those busy days, so why not have something that can help you manage them right there on your desk? Like a cute calendar for example? To get your head out of your electronics and look through your plans on the calendar will make you feel more motivated and give a break for your eyes to relax.
2. Helping yourself remember special days and important events
Sometimes, we miss out on those special days with families and friends because we only pay attention to work. It never is so good if you miss out from social and focus on only work. Beware of burnouts! Using a calendar as a reminder that sits next to you will help you to more successfully balance work and social life. Circle around those important days to help you organize your days better and obviously have more time to yourself and the ones you're close to
3. Motivating yourself to do more
Some people create their own calendars with motivational quotes on them, which will help them achieve their goals faster. You could see all the important days and tasks that you have planned to finish on the calendar and you can tell that this would be the best reminder to complete your work, as well as getting motivated every day.
Convinced yet? Get your business calendars printed today!
Article source: https://www.gogoprint.co.th/en/blog/5-reasons-to-use-calendar-with-free-templates-2018/